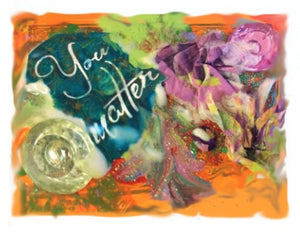 You Matter
You Matter - a message to be shouted from every rooftop! Speak it.  Hear It.  Live your life like you matter.  Social revolution is at hand.  Imagine when it registers: hatred would cease, racial issues would be brought to an end, our focus would then be brought to commonality instead of our differences.
Even if you've been forgotten, ignored, dismissed or abandoned, you matter to HIM  and that's all that matters.
Each note card comes in its own translucent envelope. The set of 2 note cards come complete in their own organza bag.
All framed images come in a sleek black frame.
Looking for a special size? Email us at flowersandotherthings@gmail.com.
All product sales fund the mission to bring hope to where it's needed most in Project Blooming fashion!